Engage in Scripture like never before!
Download the free app and enjoy regular time with the Bible, right when and where you need it. With the free Bible app, you can access your bookmarks, community contributions, and reading plans no matter where you are.
Relevancy
In generations past, the access people had to the Bible was very limited. Today, this is no longer the case. However, many people who have access to the Bible think its message does not apply to their lives. At the same time, there are others who believe there is a connection between the Bible and their everyday experiences.
Information Revolution
Over the last decade, the Internet has brought about a revolution which empowers people like never before. With the ability to share, contribute, create, broadcast and communicate, it's easy to express who we are and what we believe with the rest of the world.
YouVersion
Since its start in 1996, LifeChurch.tv's purpose has been to lead people to become fully devoted followers of Christ. In doing so, we have looked for new ways to help people connect the Bible to their daily lives. Our methods have changed over the years as we've incorporated various technologies and strategies. But at the core, our focus remains on relevancy as we consistently strive to demonstrate and teach people how God's Word relates to everyone, no matter where they are in life. YouVersion represents a new frontier in LifeChurch.tv's efforts. We aren't just building a tool to impact the world using innovative technology, more importantly, we are engaging people into relationships with God as they discover the relevance the Bible has for their lives.
How to Install & Use the YouVersion App for Shadow Hills Services on your iPhone, iPad or Android Device.
1. Download the You Version app from the App Store or Android Marketplace.
2. Open YouVersion app and you will be greeted with an option screen. Click "Live" to begin a search for Shadow Hills Sermon Notes.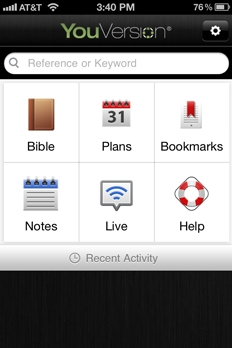 3. Click "Search for a Live Event".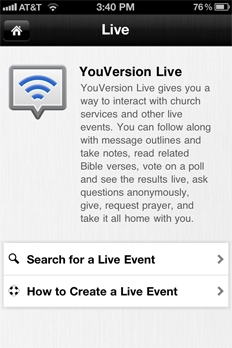 4. Allow YouVersion access to your location.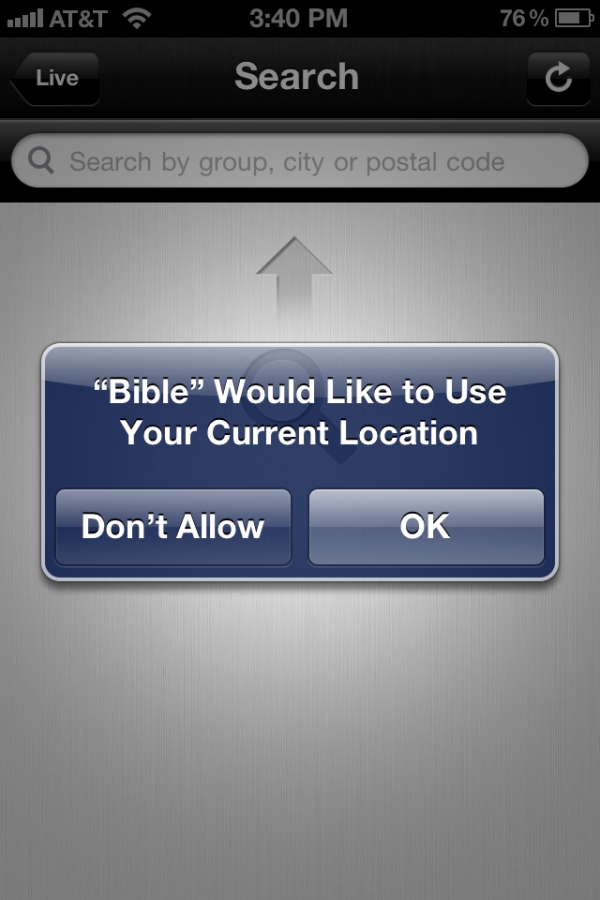 5. Once location is found, you should see Shadow Hills in the list of Live Events. Click on Shadow Hills, which will take you to the current week sermon notes.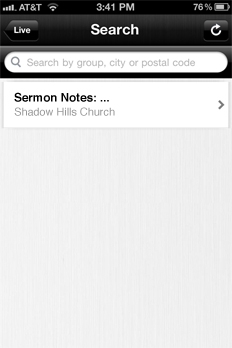 6. Enjoy!